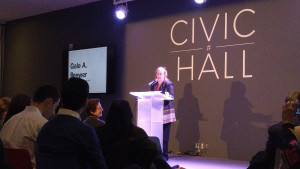 At "School of Data" conference, B.P. Brewer announces she will bring data science curriculum to NYC high schools.
NEW YORK – Today at BetaNYC's NYC School of Data conference, Manhattan Borough President Gale A. Brewer announced she will bring data science classes to New York City high schools, making public that her office is forming a task force to develop a data science curriculum and implementation plan.
"As the world changes, it's critical that our schools keep up. That doesn't just mean putting computers in classrooms – it means offering our students coursework that will help them understand and even shape the world they're inheriting from us," said Manhattan Borough President Gale A. Brewer. "Data science is behind expanding access to parks and playgrounds, the rates MetLife charges for insurance, and which search results Google shows us. It can literally show us how to make our world work better."
Data science is the interdisciplinary field focused on deriving knowledge insights from data. It exists at the intersection of math, statistics, information science, and computer science, and has growing applications in everything from social and economic research to marketing, data mining, software design, and more.
In 2012 the Harvard Business Review called the role of data scientist "the sexiest job of the 21st century." In 2014 the Washington Post called the field "newly hot" and concluded "[t]his is where the jobs are," observing that "[i]t will take an estimated 2 million new computer scientists, mathematicians, engineers, and statisticians to sort through the cacophony of data and find meaningful patterns that will help, among other things, to target customers, track diseases and find crime hot spots."
In announcing her commitment to bring data science education to the city's schools, Brewer pointed to the success of her Open Data Law, which has generated a mountain of civic datasets for use in civic hacking, data analysis, and data science projects, and her office's CUNY Service Corps program, which trains and deploys CUNY students to assist Manhattan's Community Boards with open data and data science-based projects.
"We have a pioneering open data policy here in New York City," said Brewer. "Using that data to give our high school students concrete, inquiry-driven experiences is a win-win, and will prepare them for greater opportunities and full citizenship in the digital century."
The Data Science Education Task Force
The Data Science Education Task Force's goal will be building an actionable plan to bring data science in the New York City public schools, including: a working outline of a curriculum, professional development solutions to help teachers lead data science courses, and pursuing city- and state-level policy changes to clear the way for data science's incorporation in city high school curricula.
The Los Angeles school district, UCLA, and the National Science Foundation have already partnered to pilot data science classes in 10 public schools, with promising findings. Students who had failed previous math classes or state algebra assessments were passing sophisticated data science courses. Proponents cited the hands-on, concrete, relevant nature of the coursework compared to conventional mathematics curricula as a significant positive.
The task force is in formation, and Brewer will bring together education experts, civic technology advocates, and technology entrepreneurs to participate. The New York City Department of Education will be included.
About the NYC School of Data Conference
BetaNYC's NYC School of Data conference, held at Civic Hall in the Flatiron District, brought together open data advocates, civic hackers, technology entrepreneurs, government officials, and students to discuss New York City's data ecosystem. The day's programming included a workshop teaching data science basics to high school students, demonstrations of open data-based work CUNY Service Corps members have done for Manhattan's Community Boards, and a discussion on potential improvements and updates to the 2012 Open Data Law and government open data policies.
Source Link https://madmimi.com/p/a1df57
# # #