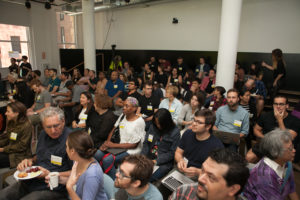 If you attended the event, and did not yet fill out the post-event survey, please visit < https://betanyc.forms.fm/nyc-311-data-jam-followup >.
This past weekend, 185 participants joined 10 NYC agencies and 19 community partners to address 6 challenges or attend 3 classes. With the Manhattan Borough President and members of Community Boards we worked to improve insights around NYC 311 service request records, aka the people's data set.
To kick off the day, Manhattan Borough President Gale A. Brewer launched BoardStat, a localized dashboard that gives New Yorkers simple access to trends, location-specific issues, and how requests are assigned to agencies. In the coming months, BetaNYC be launching a series of public education classes to ensure all New Yorkers can read their own data! (Join our facebook group or subscribe to our newsletter for more news on this…)
Check out BoardStat on the Manhattan Borough President's website.
We recorded the morning kick-off where Gale A. Brewer announced Boardstat, and the end of the data jam where teams shared their findings.
This event was our third data jam. Last year, we experimented with NYC TreesCount! This spring, we hosted a mini-data jam with NYC Planning. Our goal was to iterate around a safe space where jammers and civil servants can come together and look at a series of problems from a number of different perspectives. Additionally, we wanted to give the community a place for them to level up their technical skills. We seem to have a successful and replaceable model.
This was our fourth event to offer free, on-site childcare, and found this to be quite a bit of a planning issue. We were rejected from several commercial office buildings and a few colleges because we wanted on-site childcare. Frankly, this caused an absurd amount of stress and delayed our ability to get this event kicked off in the timely manner.
If our broader technology community is to be inclusive, we must fight this absurdity head on. We thank Socrata, Rise, and Sitter Studios for ensuring all of our participants could attend and have their little ones also attend.
The day's challenges
Each challenge group worked within assigned 'wiki'-esque documents to explore questions. Here is a list of the challenges and the notes from each group! Here is a public repository for the day's activities.
What is an ideal future of NYC 311 service request data and its open data schema?
Community Partners: Mayor's Office of Tech & Innovation, NYC 311, & IBM
As the NYC 311 moves into the next phase in redesign there will be multiple consideration points to make the data most usable for the city neighbors who want to use it, for the government agencies that need to respond to it, and this challenge addresses the changes that have been made over time, and that will need to be anticipated. NYC's 311 service request data has grown to include many fields, is transactional data and evolves as tickets are received, addressed, and closed. (Challenge Details)
What features and insights can be built into BoardStat Improvements?
Community Partners: Carto, NYC Planning, Manhattan Community Board 7
BoardStat is a highly interactive tool for Community Boards that empowers users to discover issues and trends within their district boundaries, represented by the district's 311 service requests. The six pages of the tool provide a variety of summaries, graphs, and maps of 311 data (from 2010 through the present day), designed for specific Board use cases. Not only does BoardStat empower Community Board staff and members to gain timely insights into their residents' concerns, but it also furthers the Borough President's goal of moving beyond open data access to meaningful open data use. (Challenge Details)
How can NYC 311 service requests highlight neighborhood trends and monitor affordable housing?
Community Partners: JustFix.NYC, NYC Department of Buildings, HeatSeek NYC, Association for Neighborhood & Housing Development (ANHD), Socrata
We are in the midst of an housing crisis in NYC. Homelessness is at an all-time high, and over 70% percent of low income New Yorkers pay more than half of their income in rent. In order to address this, the Mayor's housing plan includes building or preserving 200,000 units of high-quality affordable housing, with the majority coming from the preservation of existing affordable housing.

311 service request data provides an almost real-time feed of housing quality indicators that can provide a viewpoint on the state of housing and inform on the effects of large scale changes such as rezoning, gentrification, and development. Furthermore, community boards play a crucial role in the Uniform Land Use Review Procedure (ULURP) process, and having a tailored and accessible solution to viewing neighborhood trends will play a significant role having a better sense for what's happening in the district. (Challenge Details)
How do extreme weather or special events impact 311 service requests?
Community Partners: GovEx, NYC Office of Emergency Management, NYC Parks, Mayor's Office of Data Analytics
Large-scale events such as adverse weather can place a significant and unexpected burden upon New York City's resources. Trained emergency workers from a variety of city agencies swing into action to address zero-day attacks on our health and safety, but these events also have a long tail of recovery. It has taken years to fully recover from hurricanes such as Irene or Sandy – events so impactful that their their impact on city services can't easily be measured. (In the case of Sandy, whole new projects, teams, and tools were created to coordinate recovery.)

At some point after adverse events, city agencies need to return to a "normal" mode, resuming business as usual. Recovery doesn't just mean addressing the direct impacts of a major event, but also addressing the backlog of normal work which has piled up in the meantime. The 100 Resilient Cities project defines resilience as "the capacity of individuals, communities, institutions, businesses, and systems within a city to survive, adapt, and grow no matter what kinds of chronic stresses and acute shocks they experience." (Challenge Details)
How do we identify data biases in NYC 311 data?
Community Partners: Measure of America, NYC 311, Mayor's Office of Data Analytics, ESRI, Enigma
Measure of America has noticed that some 311 data has a reporting bias, meaning that 311 complaints might not be representative of incidence. Measure of America is interested in seeing how 311 data compares to gold standard government records and making 311 data more actionable. By gold standard data, we mean the types of administrative government data found on NYC Open Data that are conventionally used for policy making and benchmarking.  While any data set or survey is still an approximation  and not perfectly representative of the occurrence of a particular phenomenon, the goal is to compare to something more systematic and controlled than self-reported complaints. (Challenge Details)
How can 311 data be used with performance data in the Mayor's Management Report to help inform and improve agency performance by providing predictive insight or highlighting equity issues?
Community Partners: Mayor's Office of Operations
The Mayor's Management Report (MMR) is mandated by the City Charter and serves as a public account of how City agencies are performing.  Through reporting on performance indicators taken from 44 individual City agencies and offices, the MMR enables the public to evaluate the efficacy of City government in providing a wide range of key services and meeting its stated goals.
Taken together, the MMR and NYC 311 provide a wealth of data points concerning many of the same City services, and City agencies often deploy data from both sources to help manage performance.  In some instances, 311 data is even used as a proxy when more direct measurements of service outcomes or performance are difficult to collect.

There are important distinctions between the two data sources.  The purpose of the MMR is to objectively report on conditions, outputs, and outcomes so that performance can be assessed over time.  311 Service Request data, on the other hand, is driven by the experiences and perceptions of customers and can be influenced by demographic and attitudinal factors.  Therefore, they provide different perspectives on many of the same services and programs.  Given their substantive overlap, what insights can be gained by analyzing these data sets together? (Challenge Details)
NYC 311 Data Jam Insights By The Numbers
Anticipate participant 226; 185 (82%) attended

Attendants were: 37% data jammers (68), 23% classroom attendees (42) and 19% Subject Matter Experts (36) attended

Attendants reported use of pronouns:

He/Him – 34% (62)

She/Her – 26% (48)

They/Them – 0% (0)

Blank or another choice – 41% (75)

Attendees reported age, with 98 responding, average reported age 34

Attendees were asked their home borough

Manhattan 21% (39)

Bronx 1% (1)

Brooklyn 24% (45)

Queens 5% (9)

Staten Island 1% (1)

Other, Not Reported or Out of 5 Boroughs 46% (90)

Volunteers: 12

Event Staff: 8

Children in child care: 4

Government Agency Partners: 10

Community Partners: 19
Selected tweets from the day
Thank You to our sponsors, community partners, and participants!
Sponsors:
Microsoft Civic Tech, Alfred P. Sloan Foundation, Rise New York, Socrata, Carto, Enigma, Rent Logic, Datapolitan, and Fund for the City of New York
Community Partners:
Manhattan Borough President, Gale A. Brewer, Staff and Members of the City's Community Boards, NYC 311, Mayor's Office of Data Analytics, Mayor's Office of Technology and Innovation, Mayor's Office of Operations, NYC Emergency Management, NYC Parks, NYC Planning, NYC Department of Buildings, Elana Shneyer Strategies, IBM, GovEx, Association for Neighborhood and Housing Development, JustFix.NYC, HeatSeek
Measure of America of the Social Science Research Council, Civic Hall, ESRI, Sitter's Studio, & Internet Society New York Chapter