Open Data Week is a week-long festival of community-driven events organized and produced by the NYC Mayor's Office of Data Analytics (MODA) and BetaNYC. Every year, New Yorkers come together all across the boroughs to celebrate New York City's Open Data Law, which was signed into law on March 7, 2012. Coincidentally, the first weekend of March is also International Open Data Day. Together, we use both dates to anchor NYC's Open Data Week and increase civic engagement with our municipal open data.
We are excited to announce the NYC Open Data Week 2021 program, with more than 80 community events now available for you at < www.open-data.nyc >. We recommend finding a comfy chair and settling into your week with it. When you come across an event of interest, click it and follow the RSVP link to the organizer's registration page.
From March 6 – 14, 2021, we are doing things a bit differently. Event organizers are hosting virtual sessions to engage with you about open data, technology and design. We invite you to check out the program, RSVP to participate, and explore Data through Design — a week-long art exhibition.
Additionally, we are partnering with the Mozilla Foundation to bring MozFest to NYC! The first two weeks of March are promising to be the most educational events of the year.
---
About Open Data Week 2021:
This year's Open Data Week festival was organized in a joint effort by the Mayor's Office of Data Analytics, BetaNYC, Data Through Design, and a selected group of community curators – selected for their expertise and experience in specific domains. You'll find events spanning the topics of Art & Media, Civic Engagement, Community Building & Democracy, Civic Innovation & Service Design, Covid19, Health & Environment, Data Ethics & Policy, Digital Divide & Internet Health, and Housing & Urban Planning, Mobility.
We will kick off on Friday with a pre-festival launch party in a 3D environment with Data Through Design from 6 p.m. to 9 p.m. on Friday, March 5. Register here to join us!
Starting Saturday, March 6, and running through Sunday, March 14, you will find interactive events – including workshops, demos, art exhibits, hackathons, panels, and outdoor activities – where you can meet other members of our community, and learn more about NYC Open Data.
Starting Monday, and each weekday morning, grab your morning beverage and join us with special guests to start the day. And in the evenings, gather with us in virtual space to say hi and chat.
Throughout the week, check out the Data Through Design exhibits at their virtual gallery. Artists have worked hard to communicate the theme of "Ground Truth," creating works that connect data to physical place and personal experience.
Thank you for being a part of our community, and we're excited to see you at events throughout the week!
If you want to stay connected to our daily festival newsletter, subscribe here < http://bit.ly/opendataweek2021 >
---
About Data Though Design 2021 – Ground Truth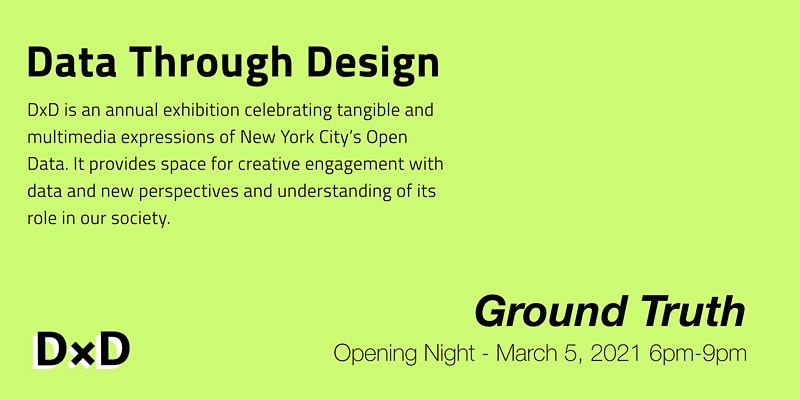 Data Through Design's 2021 exhibition theme is Ground Truth: the insight we receive from being "on the ground," collecting or confirming data through direct observation, as opposed to abstract estimates, samples, or reports derived from remote locations. Data Through Design seeks works that investigate this experience to connect data and the public to physical place and personal experience.
At a time of unprecedented, large-scale social and environmental upheaval, we invite artists to step out into their world to examine the relationship between lived experience and the overlay of data and mediated information used to interpret such experience.
Online exhibits and programing: https://2020.datathroughdesign.com/2021
---
About MozFest 2021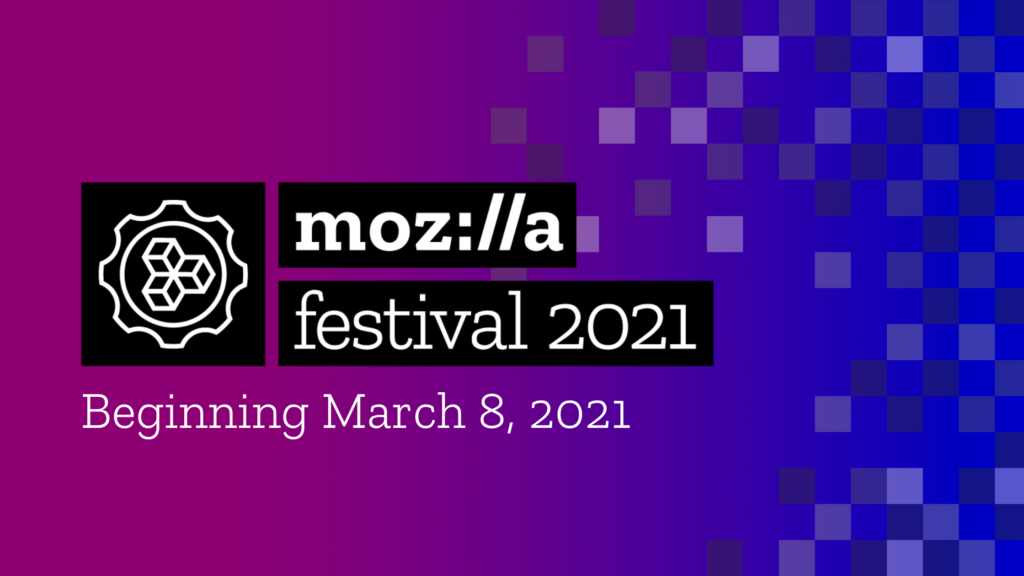 MozFest is a unique hybrid: part art, tech and society convening, part maker festival, and the premiere gathering for activists in diverse global movements fighting for a more humane digital world. Monday, From March 8th – Friday, March 19th, registration is pay as you wish, and once you register for a ticket, you'll be able to access the full schedule and features.
The Mozilla Festival, affectionately known as MozFest and hosted by the Mozilla Foundation, harnesses the collective power of unexpected partnerships — from analog artists and public interest technologists to policymakers and queer activists — to creatively disrupt the status quo and re-frame and re-imagine our online world.
We write code. We create art. We brainstorm products and policies that put the user first. And we do it as one collective movement. Together we are stronger and can accomplish more towards our common goal: a healthy internet and trustworthy AI.
Schedule: https://schedule.mozillafestival.org/plaza

Register: https://www.mozillafestival.org/en/tickets/
BetaNYC recommends that you check out the following sessions!
We are helping facilitate the two following sessions:
Our dear friends are facilitating the following: