BetaNYC's Mission
BetaNYC is a civic organization dedicated to improving lives in New York through civic design, technology, and data.
We envision an informed and empowered public that can leverage civic design, technology, and data to hold government accountable, and improve their economic opportunity.
BetaNYC's History
BetaNYC is a civic organization dedicated to improving lives in New York through civic design, technology, and data.
Founded in 2008 as a "meetup" to discuss open government in NYC, we have evolved to be a key local leader and national partner in civic technology, open data, and open government.
Our work empowers individuals and local communities to build a civically engaged technology ecosystem and provide for an honest and inclusive government. We want New York's governments to work for the people, by the people, for the 21st century.
BetaNYC demystifies design, technology, and data to the point where anyone can use it, create it, and participate in the decision making process.
In 2013, the community wrote the People's Roadmap to a Digital New York City. This document has helped produce several proposed pieces of legislation and seven additional laws.
BetaNYC's Purpose
Improving lives through design, technology, and data.
BetaNYC envisions an informed and empowered public that can leverage civic design, technology, and data to participate in the political process, and hold government accountable.
We empower the public with tools, education, and data.
We demystify government, technology, design, and data with the goal of improving access to services and information.
We explore a world of possibilities by providing a safe space for individuals and government to collaborate and organize an open community for all to improve the city.
We envision a City where:
individuals are empowered with knowledge and tools to address their community's problems;
individuals and communities actively participate in the local governance process;
community members are seen as trusted collaborators on impactful solutions;
community based organizations effectively use tools to improve the lives of their clients;
elected representatives are capable of proactively and effectively communicating with their constituents; government and social services are centered around the constituent;
government collaborates with community to explore insights and experiment at civic innovation events (i.e. hackathons, datapaloozas, and design camps);
education, fellowship, and community are combined to provide a ladder of growth, equity, sustainability, and resilience;
the future is written in collaboration, not for.
BetaNYC Values
The Freedom to Connect represents the idea that access to high-speed bi-directional internet is a prerequisite to full civic participation. Economic growth, job creation, educational opportunities, public safety, digital government services, and access to affordable health care depend on affordable and fast connectivity. In 1932, US President Franklin D. Roosevelt emphasized the right of communities to provide their own electricity. Today, communities need infrastructure for high speed universal access.
The Freedom to Learn is the ideal that access to knowledge, institutions, code, data, and tools, regardless of place of birth, language, gender identity, age, faith, or income, is essential to an empowered and educated public.
The Freedom to Innovate is central to the advancement of communities. Innovation is vital to the development of a complex, dynamic, and thriving civil society. This City's heritage is founded upon entrepreneurial ideas. We need laws and policies that place people before profit to protect, provide for universal economic opportunity, protect the commons, and allow for innovation.
The Freedom to Collaborate stands for the ideal that participatory democracy is not centralized. Regardless of status and interface, we must have the ability to engage with our government, wherever and whenever. We must have the power to effect change and be a government by the people, for the people, for the 21st Century.
---
Leadership & Staff
Noel Hidalgo – Executive Director
Mr. Hidalgo stands at the crossroads of technology, government, community, and impact. He believes in participatory communities and uses technology to improve people's lives. His work has been achieved through patience and organizing problem-solving teams. Mr. Hidalgo is known as an effective organizer who can walk between worlds.
Since 2009, he has organized BetaNYC to be a driving force to improve New York City's use of technology and share its data. BetaNYC has advocated for a suite of government transparency laws, including the city's transformative open data law and city record online law. BetaNYC runs the New York City Civic Innovation Lab/Fellows program, in partnership with the Manhattan Borough President Gale A. Brewer, and curates the NYC School of Data community conference.
Mr. Hidalgo is an Eagle Scout. He was a Technology and Democracy fellow at Harvard Kennedy School's Ash Center for Democratic Governance and Innovation; served as an inaugural member of Code for America's National Advisory Council, and is a former fellow / currently an affiliate at Data & Society Research Institution.
You can reach him at noel(-at-)beta(-d0t-)nyc or on twitter at @noneck.
Emily Goldman – Assistant Director of NYC Civic Innovation Fellows Program
Emily joined BetaNYC in 2014 when she was doing fieldwork research in Brooklyn for her Ph.D, and began analyzing changes in Brooklyn's stock of rent-stabilized buildings. The data had to be extracted from PDF documents, a project which brought her to a BetaNYC "Civic Hacknight" in June 2014. Ever since presenting her work then, she has been an enthusiastic member of BetaNYC's leadership committee.
Emily believes that recent developments in opening data and in civic technology hold the potential for societal improvement, and she is continuously excited to participate in helping this mission move forward. Co-directing and teaching in the third year of the Civic Innovation Fellowship program is proving to be a very interesting and rewarding first position after her Ph.D.
You can email her at < emily(-at-)beta(-dot-)nyc >.
Kate Nicholson — Director of Partnerships and Events
Kate has a MFA in Design for Social Innovation from School of Visual Arts and a BA in Economics from Tufts University where she also minored in Entrepreneurial Leadership Studies. A native New Yorker and an avid traveler, Kate identifies as both a global and local citizen. When she's not spending her time with great people doing what she loves at the office, she is engaged in the civic tech and social innovation scenes in NYC. She welcomes new perspectives and is always up for a
or a
.
You can contact her at kate(-at-)beta(-d0t-)nyc
Zhi Keng He — Fellowship and Lab Assistant
Zhi graduated in the spring of 2019 from Hunter College with a BA in Geography, and has two years of experience as a college aid at the NYC Department of Transportation. During his time there, he has built many applications and visualizations to assist planners and other decision makers; and wrote scripts to manage and process various city data sets. He was also a Public Service Scholar, worked in the MBPO policy team, and a Civic Digital Fellow at the US Census Bureau.
Zhi joined BetaNYC in the fall of 2019, he enjoys building projects to improve the accessibility and engagement of public data to communities and students.
Email < zhi(-at-)beta(-d0t-)nyc >, for your data needs.
---
Civic Innovation Apprenticeship Program Members
Apprentices join our staff as part-time consultants. They are past and present CUNY students who, in their fellowship year with us, demonstrated professional abilities in communicating effectively, managing tasks independently, and acquiring and applying skills from our civic analyst bootcamp. They are ideal candidates for continued civic service work because of who they are and what they have gained from working on projects with us that support Manhattan Borough President Office and Community Board operations.
Apprentices are critical to our mission. Apprentices support community boards' adoption of new technologies and practices, like airtable, google docs, and virtual meeting platforms like WebEx and Zoom. They help our lab refine prototypes and develop new processes. They solve small and complex problems that come to us as Research and Data Assistance Requests (RADARs).
Ishrat Chowdhury – Civic Innovation Mentor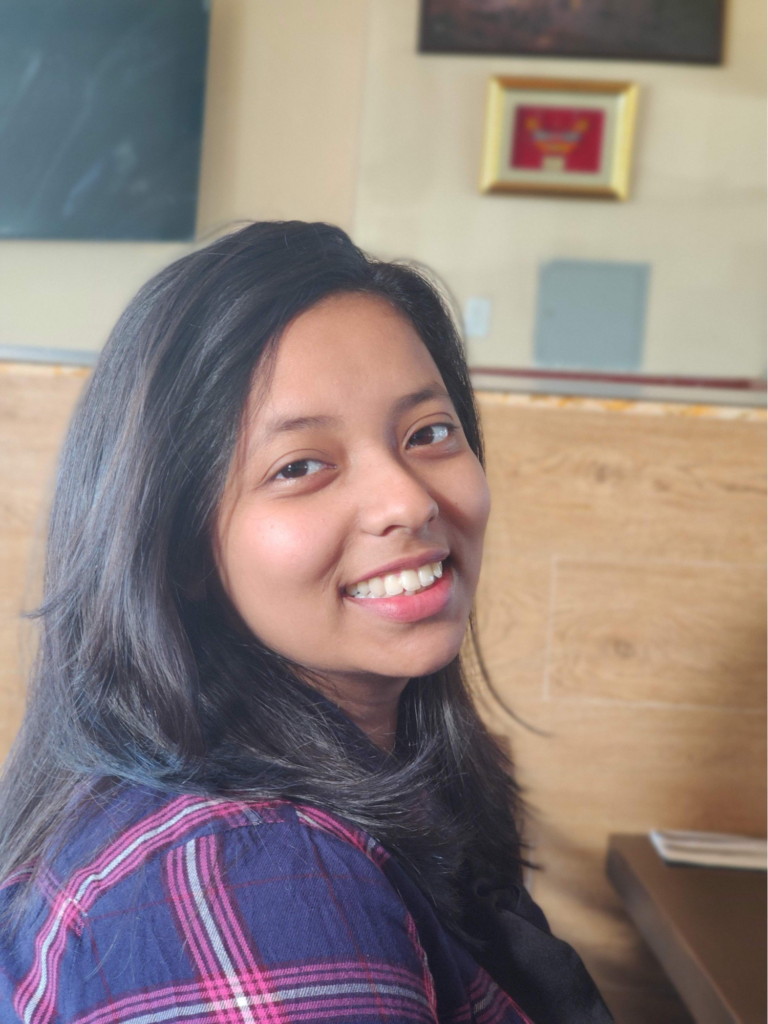 Ishrat graduated in the spring of 2020 from Queens College with a BA in Computer Science and a minor in Mathematics. She was a Civic Innovation Fellow from 2018-19 and joined BetaNYC as a Mentor in the fall of 2019. She previously interned for a summer at Accenture and will soon be joining them full time as a software engineer.
She is passionate about tech and government, and also enjoys volunteering and reading books.
You can email her at < ishrat(-at-)beta(-dot-)nyc >.
Onedeige James – Civic Innovation Apprentice
Onedeige graduated in July 2020 from LaGuardia Community College with an AS in Environmental Science and is currently pursuing a BS in Environmental Science, with a focus on Geographic Information Systems at Lehman College. She is also an alumni of the 6th cohort of the Civic Innovation Fellow Program with BetaNYC and the Office of the Manhattan Borough President.
Onedeige has a strong interest in data visualization and is also concerned about data access and interpretation against biases across the board. Originally from the coast of Guyana, she loves outdoor activities and is always up for an adventure. Onedeige also enjoys ballroom and latin dancing particularly foxtrot, salsa and swing.
You can email her at < onedeige(-at-)beta(-dot-)nyc >.
Gabrielle Langston – Civic Innovation Apprentice
Gabrielle (better known as Gabby) graduated from New York City College of Technology in July 2020 with a BS in Applied Mathematics, and is currently pursuing a MS in Data Analysis and Visualization at the CUNY Graduate Center. She was previously a Civic Innovation Fellow with BetaNYC and the Office of the Manhattan Borough President, where she was a member of the 6th cohort class.
Gabby is passionate about data transparency and its role in creating a more fair, unified, and equal world for all. She is a native Brooklynite, and a city lady at heart. In her spare time, she enjoys tennis, watching (and reading!) Pride and Prejudice (the 2005 version), being a cat mom, and cooking arroz con pollo with maduros. 
You can email her at < gabby(-at-)beta(-dot-)nyc >.
Murat M. Akaydin – Discretionary Actions Consultant 
Murat is a Native New Yorker and an Army Intelligence War Veteran. He has completed his BBA in IT Management and his MPA in Public Policy and Administration. Murat also holds certifications in project management, IT service management, and business analysis. He worked briefly as an IT Project Management Consultant on Wall Street before transitioning to the public sector.
Murat served as a member of the 6th cohort of Civic Innovation Fellows with BetaNYC and the Office of the Manhattan Borough President. He has been working with BetaNYC to support community boards in their transition to remote work as a response to the COVID-19 pandemic. In his spare time, he works with Generation Vote to establish a NYC Hub to improve civic engagement among the youth and under-served populations. He has a deep and genuine passion for public service and strives to leave a positive impact on the lives of those around him. At the end of the day, he's just a Brooklyn boy trying to give back to the city that has given him so much.
You can email him at < murat(-at-)beta(-dot-)nyc >.
Jennifer Maldonado – Discretionary Actions Consultant 
Jennifer completed her Environmental Studies BA at Queens College in Fall 2019 and was a member of the 5th cohort of the Civic Innovation Fellowship Program. At the end of the fellowship, BetaNYC provided the opportunity for a fellow to work with Manhattan Community Board 1 and she took that opportunity as a learning platform about community boards.
She now holds a position as a Discretionary Actions Consultant, advising on licensing applications as well as assisting with modernizing and streamlining the approval process with respective city agencies. After a year and a half in this position, she is always learning something new about community interactions and addressing the issues that impact the district. Jennifer is very hands-on, and would love to work with animals in the future, and hopes to explore work in the environmental policy field.
You can email her at < jennifer(-at-)beta(-dot-)nyc >.
Ramesh Beharry – Discretionary Actions Consultant
Ramesh Beharry collaborates with New York City community boards on improving technology and data literacy, assistance in municipal service delivery, and connection with the communities served. He graduated from the Civic Innovation Fellowship in 2018 and has since worked with community boards on front-end design and build-out of BetaNYC's constituent relationship management tool, a spreadsheet database with applications and script functionality, which helps ensure service request delivery and enhances our ability to efficiently communicate with civic stakeholders. Before joining the Civic Innovation Fellowship, Ramesh served in the Marine Corps. 
You can email him at < ramesh(-at-)beta(-dot-)nyc >.
---
Leadership Committee (Volunteers)
Lauren Rennée
Lauren approached BetaNYC in 2014 with the simple question, "how do I become a civic-hacker?" and has since volunteered her time supporting education initiatives and planning special events. She has been working hard to carve a space for non-coders in the civic tech community, insisting that everyone has a role in the fight for government transparency and greater data-literacy. Lauren has a deep appreciation for open data and uses it every day working as an Urban Planner at BFJ Planning, where she specializes in transportation planning. The values and design principles fostered within the civic tech community have made her a more responsible professional, effective advocate, and engaged citizen. She is thankful for the opportunity to work with government and community partners to address quality of life issues through human-centric design.
Twitter: @lbrennee
---
Tim McDermott
Tim retired from a 35 year career in IT in June 2014. After 6 months of "leisure" time, he stumbled upon a posting by Noel Hidalgo about a BetaNYC hacknight in downtown Manhattan. As a result of that meeting, he was hooked. Since most of his career centered around data and data management, he contributed by scraping the Compstat data from the PDF files posted on the NYPD web site and uploading to the BetaNYC web site.
He also attended the NYC DOT Open data forum in April 2015 where someone asked about historical road speed data. After some investigations and some "civic hacking" there is now more than one year's worth of 5 minute interval observations data available.
In addition he is working with some civic minded individuals on Long Island to spread the word on Open Data and is also working on an Election Data visualization map for Nassau and Suffolk Counties.
---
Funders & Collaborators
BetaNYC is a 501c3 organization, via the Fund for the City of New York's partners program. We would love your donation.
We have received funding and support from Alfred P. Sloan Foundation, Fund for the City of New York, Microsoft Civic, Code for America, Data and Society Research Institution, Blue Ridge Foundation, Mozilla, Socrata, Accela, Carto, NYC Media Lab, Datapolitan, and Ontodia.
BetaNYC is a member of the Code for America Brigade community and we are honored to have worked with the following organizations: New York Tech Meetup, Civic Hall, Coalition for Queens, Dev Bootcamp, OpenPlans, Silicon Harlem, NYC Digital, NYC Mayor's Office of Data Analytics, NYC Mayor's Office of Technology and Innovation, NYC's Department of Information Technology and Telecommunications, and NYC 311.