BetaNYC advocates for a smarter government while building programs, prototypes, and applications. Below are a listing of apps and tools our community is or has supported.
---
Open Data Curriculum
Over the years, we've collected quite a bit of research on how to make NYC's open data more accessible. Through our partnerships, we've been able to demystify data terms, values, and how to use open data for collective action. All of our teaching materials are under Creative Commons — check them out here.
---
Open Data Tools, Information Portals, & Tools for Community Boards
---
BoardStat
BoardStat – BETA – a highly interactive tool for community boards that empowers users to discover issues and trends within their district's boundaries.
---
BoardTrack
BoardTrack – BETA – is a community board attendance tracking tool and data standard that helps community board staff submit attendance records to a Borough President's community board liaisons. In turn, liaisons can quickly analyze attendance history.
---
Boundaries Map
The NYC Boundaries Map – BETA – is a tool for viewing and querying overlapping administrative boundaries in NYC. Various governmental bodies at the city, state, and federal level divide NYC's geography into a series of districts.
---
Community Board Database
Community Board Database (CBDB) is a free and open database tool for Community Boards to organize various district responsibilities.
---
Data Assistance Requests
Data Assistance Requests (DAR) – BETA – is a tool to assist government employees in the Manhattan Borough President's Office and Community Board offices with various technical and analytical aspects of their work. Our Data Assistance Requests form helps us gather your challenges and helps us track your requests.
---
A web tool for easy batch geocoding (getting latitude, longitude, and other geographic data from an address). Allows for QA of locations, and correcting of failed queries. Using NYC using Planning Lab's GeoSearch and Pelias and inspired by Erik Willems' Batch geocoder for journalists.
---
Community Board Votes – is an Airtable template created with community boards to meet their bylaws around executive committee and resolutions elections during virtual meetings.
---
Topographic Address Assignment Database
An web interface and ArcGIS Online Database to manage and see address assignment statues for the Manhattan Topographical Bureau.
---
SLAM – State Liquor Authority Map with NYC 311 Noise Complaints and Sidewalk Cafe Permits
SLA Mapper (SLAM) – BETA – is a tool that aggregates data that community boards often have to gather in order to review liquor license applications and sidewalk cafe applications. Displaying this information in a unified view saves community boards considerable time and resources.
---
Internet Access Points / Wifi Hotspots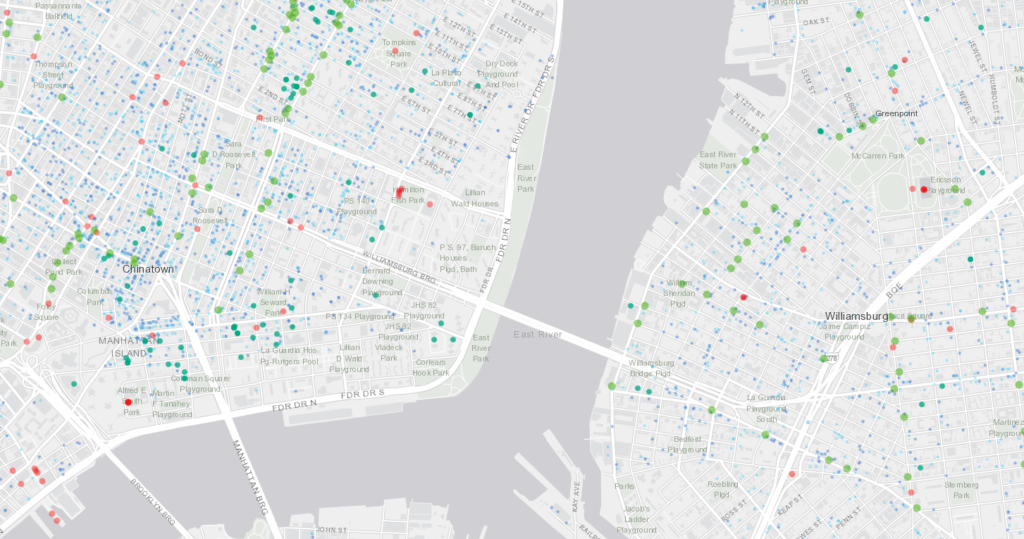 wifi.beta.nyc – is a web map that aggregates public, and private wireless internet access points. Displaying this information allows residents, and people without internet access to find the nearest locations to connect their devices to. As the internet is turning into a fundamental public utility, we are hoping these bridge some gaps in access.
---
Under development or No Longer Supported
CityGram.NYC
CityGram.NYC – BETA – a notifications platform for subscribing to your city, whether it's consumer complaints, 311 service requests, vehicle collisions, or restaurant inspections in your area — sign up to find out about the things that matter to you where they matter to you.
---
---
AHV Dashboard
AHV Dashboard – ALPHA – The After Hours Variance Dashboard is a tool to track the effect of after-hours variances in New York City community districts. The tool empowers community boards and district offices to advocate for better quality of life conditions in their districts.
---
Tenants Map
TenantsMap shows residential buildings with rent-regulated units throughout Manhattan, and their volume of housing safety-related 311 service requests, which is updated daily. Viewing housing-related 311 service requests (Heat/Hot Water, Paint/Plaster, Plumbing, and Unsanitary Conditions) overlaid on rent-regulated buildings helps community organizations, boards, and elected identify buildings where tenants are at risk of harassment and/or displacement.
---
Community Data Portal
Data.Beta.NYC – BETA – This is a community data portal. If you scrape data and want to share it, please upload it. (This site is currently being upgraded)